So you're about to bring home your new baby—what does that mean for your budget? Chances are, it's going to be quite different from how things used to be! Luckily, there are several steps you can take now to ensure that your finances will be ready to meet the demands of your new bundle of joy. Read on below to learn more about budgeting for a new baby and what you can do today to prepare!
One-Time Expenses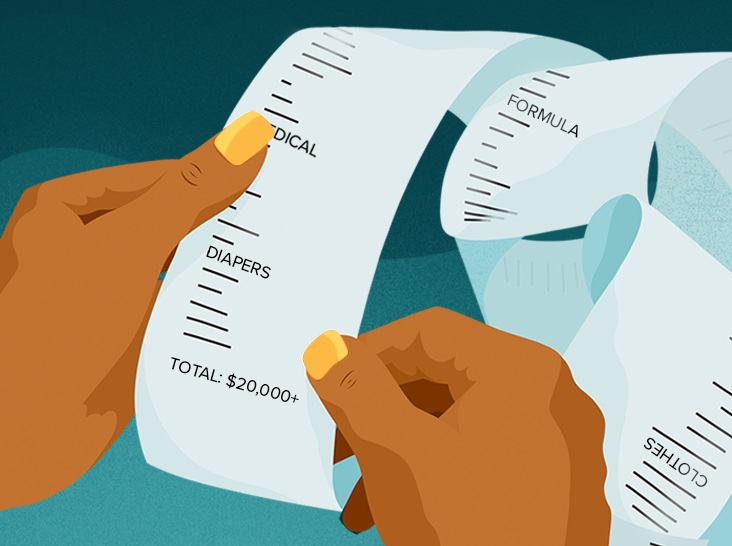 In this scenario, we consider the first baby. This means starting over with things like furniture, strollers, and cribs. Of course, there is also the one-time medical expense of having a baby. As we'll see, this expense is by far the hardest to quantify in any way.
Medical Bills
New parents in the U.S. can expect to spend anywhere from $7,000 in Arkansas to $17,000 in New York on the expenses of their labor and delivery according to a 2020 research article published by the Healthcare Cost Institute. A vaginal delivery can cost anywhere from $7,000 in Arkansas to $17,000 in New York. Out-of-pocket expenses varied from as low as $1,000 in D.C. to $2,400 in South Carolina in 2017.
The price of the average, routine childbirth varies a lot depending on where you live and the type of insurance coverage you have. Double-check your insurance plan to find out what you'll have to pay in out-of-pocket expenses for prenatal care, the hospital stay, tests, and postpartum care. You won't be able to accurately estimate the cost of a procedure without reviewing your health coverage.
Baby Stuff
In addition to the medical costs above, one-time purchases are also variable, but for different reasons. This is a category that can increase exponentially based on what the parents desire. Using the following example:
Travel Needs: You may want to invest in a stroller, a car seat, a carrier, and a diaper bag in order to take your baby outside. A playpen or bassinet is necessary if you are looking to be outside a lot. A $1,000 for an adapter, snuggle bags, and a second option for some brands of strollers might not include the cost of the stroller itself. And then at the opposite end of the range, a seat and stroller combo can still be bought new for under $150. Used equipment or hand-me-downs can be used for the other things, although I'd at least buy a new infant car seat. There is no perfect way to make sure a used car hasn't been compromised from past accidents or intense use.
Home Needs: For your child's enjoyment, it may be helpful to purchase a swing, bouncy seat, play mat, or jump seat. A crib or bassinet, crib mattress, blankets, changing table, dresser, rocker, monitor, and diaper pail are also needed. There are no restrictions on using everything except car seats, which can either be purchased used or received through one of the many Internet share and swap groups.
Nursing and Feeding: As with everything else, the cost of feeding your new infant depends on your particular circumstances. Birthing parents who are able to stay at home and breastfeed 24/7 will have very low costs for months before a high chair or dishes are required. Then a breastfeeding pillow, burp cloths, or even a cape would be ideal. If the parent plans to store breast milk for future use, then items like bottles, nipples, cleaning supplies, and a single or dual breast pump will be required and your budget will rise. If breastfeeding is not possible, formula feeding will add significant costs to the first year of parenting.
On top of the one-time costs, there is the potential loss of income if you and/or your partner take unpaid leave. The Family Medical Leave Act (FMLA) entitles both of you up to 12 weeks of unpaid leave. You will not receive benefits or any wage when you're on unpaid leave, so consider what needs to be done to meet expenses such as the mortgage, utilities, insurance, groceries, etc.
Ongoing Expenses
The regular expenses of raising your little one begin once your baby is born. Be sure to include the following costs in your budget:
Child care: After the arrival of your baby, your biggest single cost will be childcare. How much it will cost varies depending on where you live, what age your child is, how much care you need, and what type of care you choose. The Care Index reports that nanny or other in-home care costs on average about $28,350 per year, though these figures may vary based on location. Center-based childcare costs about $10,000 per year. the child and dependent care credit might allow you to offset some of these costs. Please confirm whether you are eligible.
Necessities: food, such as baby formula, clothes, and diapers are the vast majority of recurring costs.
Clothing: Based on research conducted by the USDA's Center for Economic and Policy Research, a new parent should expect to spend an average of $670 to $1,110 on clothing over the first two years of their child's life. However, how much is spent can vary depending on personal preference and budget; but the lowest average monthly expenditure is about $56.
There are a variety of different diapers and prices to be found, but experts suggest at least budgeting $1000 for diapers and $450 for wipes in the first year. Disposable diapers, while they vary in price, would work out to around $120 a month. Assuming you use disposable diapers, parents should expect to go through 3,500 of them in their child's first year.
Food: You can expect to spend roughly $100 a month on solid food once your child is old enough to eat it. Food costs for children are relatively low compared to what you will spend on food for teenagers.
The Doctor Part 2: In the first year, you should schedule six wellness visits for evaluations, vaccinations, etc. and a few additional visits for illnesses. Check your health insurance policy for your rates.
When one parent stays at home
Choosing to be a stay-at-home parent may have a negative effect on the family budget; as opposed to a high-income earner leaving his or her job for a full-time parenting role, the loss of one income is likely to have a much more detrimental effect.
This is compounded by a decreased potential for wages when the working partner decides to go back to work. There can be two reasons why someone would want to stay home with the kids: personal preference or a need for additional income—at lower incomes, government assistance may not be enough to keep up with the expense. That being said, couples should at least try one-income budgeting before they have a baby so they can get an idea of what it's like before building an emergency fund with the second income at the same time.
Preparing financially as you welcome your bundle of joy
One of the first things you'll want to do when budgeting for a new baby is to calculate your ongoing expenses. This includes everything from your mortgage or rent payments to your monthly groceries. Then, you'll want to factor in the cost of all the necessary baby stuff like clothes, diapers, formula, and more. Additionally, you'll need to account for any medical bills associated with having a baby. By planning ahead financially, you can help ensure that you're prepared for all the costs that come along with being a parent.
Write a professional Letter of Application based off of the following description. The position you are applying for is internships at UNCW's communications department. Are you excited to learn, write, socialize, take photos, travel and meet interesting people? If so you're going to love working as an intern in UNCW's communications department. You will help promote arts performances by writing about our vibrant music scene on both local media outlets including but not limited to print newspapers (The Star News), local magazines (Shelter Magazine) and website content creation on uwnews.uncw.edu . You will also help us create fun photo opportunities with media partners that increase brand recognition of our organization as well as alumni.